It's a common problem so don't worry, it's usually easy to fix.
The first thing to try is to double check your volume. Make sure it is turned all the way up.
Apple
Mute-lock switch
The next thing to check is your mute-lock switch. The mute-lock switch is usually responsible, especially if you can hear sounds using headphones.
Newer iPad / iPad mini / iPad Pro users
Apple removed the mute-lock switch from the side of your iPad. It's now in the menu that you pull/swipe up from the bottom of your iPad. Check the icon that has a bell in it. If it is highlighted (iOS 10) or red (iOS 11), your mute is on. Touch it to turn it off and try our apps again.
Older iPad users
The mute-lock switch is located on the side of your iPad above the volume button. Please make sure it does NOT show orange. Now check to see if the volume is working.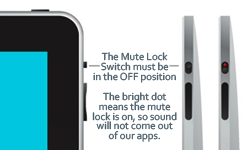 If this doesn't fix the problem, go into the Settings App (silver gear icon) on your device to the General settings and look for "Use Side Switch to:". Make sure it is set to "Mute", and then move the side switch to off (see above). Now test the sounds in the app. You can turn your side switch back to "Lock Rotation" if you like, just don't move the switch before you do.
Last things to try
Power your device fully off, wait a few seconds and then turn it back on again. Try the sound again
Uninstall and reinstall the app. Remember you can always download the app again for free if you are using the same account that originally bought it. Try the sound again.
If none of the above work, please contact us, let us know what you've tried and what you're seeing and we'll continue to help.
Android
Android devices have many different volume controls so it's possible the volume you're turning up isn't the one that controls the volume in the app.
To double check, go to your device Settings, find the Sound option and then check the volume level of all the controls. The one you're looking for is the Media volume.